Charts

How love, romance & sexytime affect listeners' scrobbles
City.Music.Sex.Romance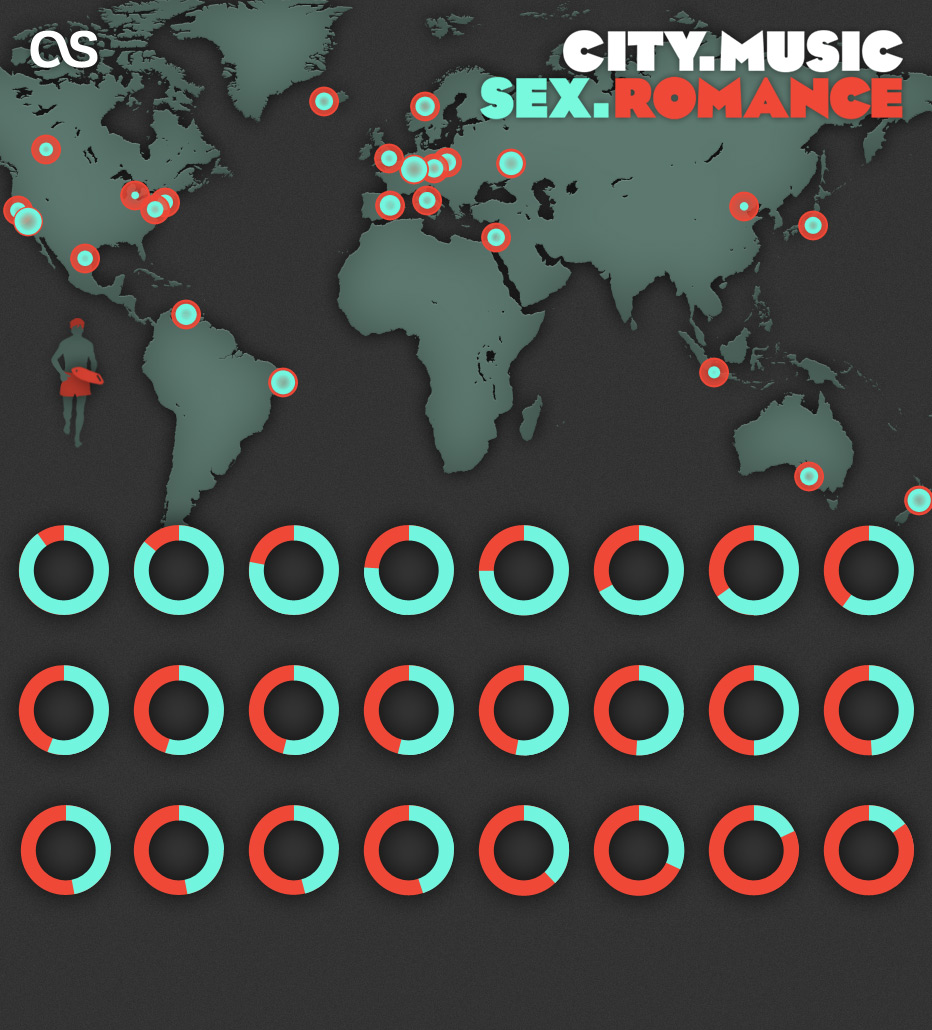 The ratio of "Sexy" or "Romantic" tags in the music played on Valentine's Day by Last.fm listeners in each city
Fresno

90% Sexy, 10% Romantic

Mainz

86% Sexy, 14% Romantic

Maceió

78% Sexy, 22% Romantic

Voronezh

76% Sexy, 24% Romantic

Wellington

75% Sexy, 25% Romantic

Caracas

67% Sexy, 33% Romantic

Valencia

65% Sexy, 35% Romantic

Trondheim

60% Sexy, 40% Romantic

Prague

56% Sexy, 44% Romantic

Adelaide

55% Sexy, 45% Romantic

Wrocław

54% Sexy, 46% Romantic

Reykjavík

54% Sexy, 46% Romantic

Tel Aviv

53% Sexy, 47% Romantic

Tokyo

51% Sexy, 49% Romantic

Rome

50% Sexy, 50% Romantic

Baltimore

49% Sexy, 51% Romantic

San Francisco

47% Sexy, 53% Romantic

London

47% Sexy, 53% Romantic

New York

46% Sexy, 54% Romantic

Monterrey

45% Sexy, 55% Romantic

Edmonton

38% Sexy, 62% Romantic

Jakarta

32% Sexy, 68% Romantic

Beijing

18% Sexy, 82% Romantic

Ann Arbor

15% Sexy, 85% Romantic
David Hasselhoff
born in Baltimore:
49% Sexy, 51% Romantic
Fresno
Mainz
Maceió
Voronezh
Wellington
Caracas
Valencia
Trondheim
Prague
Adelaide
Wrocław
Reykjavík
Tel Aviv
Tokyo
Rome
Baltimore
San Francisco
London
New York
Monterrey
Edmonton
Jakarta
Beijing
Ann Arbor
Lucky listeners find love
How scrobbles led to a match made in music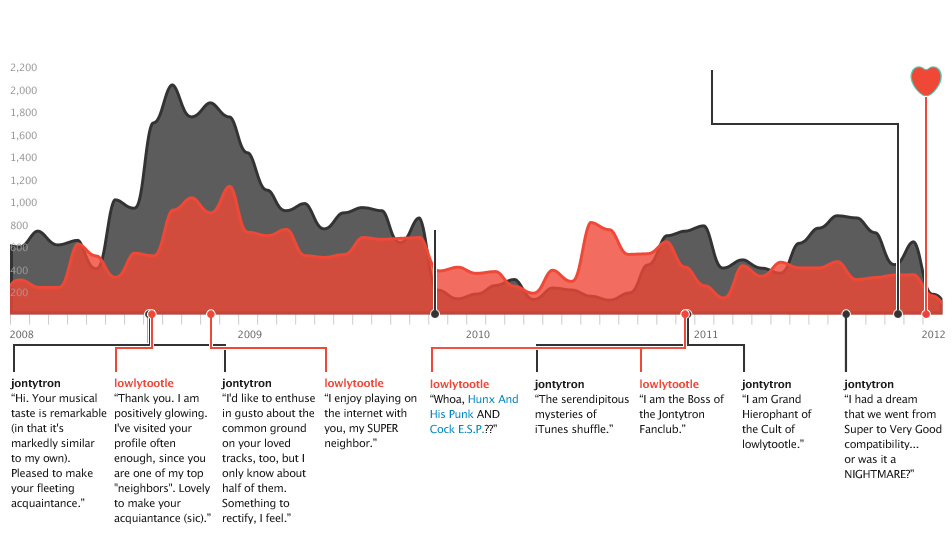 United States
26,081 plays
United Kingdom
44,298 plays
jontytron moves to Canada from the UK at the end of 2009, and moves to US 23 Nov, 2011
Get married 8 Jan, 2012
Scrobbles 2008-2012
There is a graph showing the scobble lines of both users from 2008-2012. The couple started leaving shout messages on each other's profiles around July 2008. Around this time the scrobble lines for both users increased significantly. Jontytron started to average about 1,800 scrobbles per day, while lowlytootle about 1,000. jontytron's scrobbles dropped off dramatically towards the end of 2009 when he moved from the UK to Canada to be closer to lowlytootle. Towards the end of 2010, both are scrobbling about 800 tracks a day.
jontytron scrobbles
lowlytootle scrobbles
Shoutbox Messages
Summer / Autumn 2008:
jontytron: "Hi. Your musical taste is remarkable (in that it's markedly similar to my own). Pleased to make your fleeting acquaintance."
lowlytootle: "Thank you. I am positively glowing. I've visited your profile often enough, since you are one of my top "neighbours". Lovely to make your acquiantance (sic)."
jontytron: "I'd like to enthuse in gusto about the common ground on your loved tracks, too, but I only know about half of them. Something to rectify, I feel."
lowlytootle: "I enjoy playing on the internet with you, my SUPER neighbour."
Winter 2010:
lowlytootle: "Whoa, Hunx And His Punk AND Cock E.S.P.??"
jontytron: "The serendipitous mysteries of iTunes shuffle."
lowlytootle: "I am the Boss of the Jontytron Fanclub."
jontytron: "I am Grand Hierophant of the Cult of lowlytootle."
Summer 2011:
Jontytron: "I had a dream that we went from Super to Very Good compatibility… or was it a NIGHTMARE?"

WOMEN - Top Valentine's tracks
1

.

The Magnetic Fields – I Don't Want to Get Over You

137,309 Listeners

This song was played on This American Life during a show about breaking up.

read more

100 Valentine's score

3

.

Richard Marx – Right Here Waiting

225,236 Listeners

90 Valentine's score

4

.

ABBA – Does Your Mother Know

197,597 Listeners

86 Valentine's score

5

.

Daft Punk – Make Love

298,950 Listeners

83 Valentine's score
MEN - Top Valentine's tracks
1

.

The Get Up Kids – Valentine

92,981 Listeners

100 Valentine's score

2

.

The Doors – The End (Edit version from the…

74,829 Listeners

92 Valentine's score

3

.

Marilyn Manson – Valentine's Day

91,447 Listeners

91 Valentine's score

4

.

Beastie Boys – To All The Girls

113,053 Listeners

83 Valentine's score

5

.

The Magnetic Fields – Come Back From San Francisco

115,620 Listeners

81 Valentine's score
Make sure the music you play this Valentine's Day counts. Join Last.fm, now