About
Welcome to Last.fm's Best of 2011, the only countdown based on the music you played last year.
From the biggest artists of 2011 to the new bands you've discovered along the way, we've got it covered. All that plus stats on some of the biggest stories of the year.
This year's chart was compiled by looking at scrobbles for albums released between 1st January and 31st December 2011. The Top Artist chart is based on how many of you played particular artists, while the New Discoveries chart only features artists that weren't scrobbled before 2011.
We left out live albums, greatest hits collections, EP's and singles, and you can filter each chart by location and some specially selected tags to find a chart that's right for you.
So sit back and settle into 2012 with a look at the biggest bands of the last twelve months.
Developers
Fancy building your own tools to explore the Best of 2011? Download the latest version of the data (as a TSV or XML file) and start hacking! Last.fm's comprehensive API is at your disposal too.
Pssst! If you're stuck for ideas then there are a few to get you started at build.last.fm (all built by the Last.fm community) and Playground, where Last.fm developers post projects from the labs.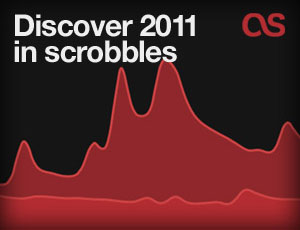 We're releasing all the data that we used to generate Best Of 2011 for developers to play with. Basic data is available as a TSV (Tab Separated Value) file, and we also provide an XML file.