Listening Trend
At the time of Michael Jackson's death
This year, 69% of Michael Jackson tracks were scrobbled after his death. Overall, scrobbles from '09 account for over half of all the MJ tracks ever scrobbled to Last.fm (since '03).
Hmm, it looks like the chart server has the hiccups...
Please refresh the page or check back later to see a graph of listeners over time
Seasons
All listening activity
24,963,595 Michael Jackson tracks were scrobbled this year.
17,189,457 tracks were scrobbled after his death on June 25th.
.
Michael Jackson
Special Feature
Without a doubt one of the most accomplished and celebrated musicians of all time, Michael Joseph Jackson claimed a place in the hearts of music fans around the world.
Jackson brought generations of listeners some of the greatest pop records of all time. As a child in the Jackson 5 he and his brothers thrilled audiences with successive motown smash hits ('I Want You Back', 'ABC', 'Dancing Machine') while his solo singles ('Thriller', 'Billy Jean', 'Bad', 'Smooth Criminal', 'Beat It', 'Black or White') are a compilation of songs that defined the '80s. This year he was preparing to start a fifty date residency at London's O2 Arena; This Is It would have been the singer's first live dates to the public in twelve years.
When he collapsed in his L.A. mansion, aged just 50, the world seemed to find out at once. Unconfirmed reports began circulating the internet after TMZ broke the news from a source at UCLA Medical Centre, and within minutes every major news site was carrying the report. The news rocked the internet; Twitter claim almost 5,000 per minute related to the singer's death, outages were experienced at LA Times and CBS News and Google reportedly believed that the rise in searches for the star appeared at first to be a spambot attack. On Last.fm, we saw a spike to the tune of over 50,000 scrobbles per hour the day MJ died. By the day three, the MJ craze had only dropped down to about 30,000 scrobbles per hour
At the same time you began to turn, in your hundreds of thousands, to his music. As the days stretched on the scrobbles for Jackson's back catalogue stretched in the millions, and even now - more than six months later - you're still playing the hits of The King of Pop.
Michael Jackson: Born August 29, 1958 in Gary, Indiana – died June 25, 2009 in Los Angeles, California.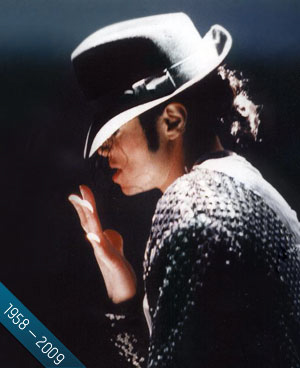 So much love
Most loved MJ tracks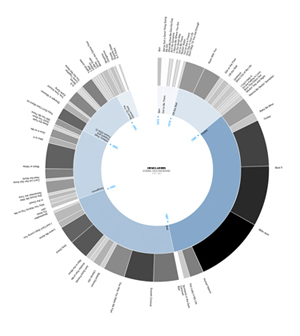 Legend
Width indicates the number of scrobbles
Darkness indicates the number of times loved
Created by joanofarctan (Anil Bawa-Cavia)
Read more about this visualisation on his blog.
.